When you watch a big-budget Hollywood film it's easy to get lost in the spectacle of the high-octane action sequences, incredibly expensive special effects, or even the charisma of whatever A-list star is gracing the screen, and sometimes we can often forget that maybe the film itself really isn't that good. I will be the first to say that when I watch one of those films, I usually feel that I have got my money's worth if I am at least entertained for a couple of hours. Why then is it when I watch a low-budget film I become so much more critical of the experience? I can look past a lot of transgressions knowing that the budget just simply wasn't there, but in the end, the director of the film really has to nail what they have. For a solid low-budget film, there typically needs to be a solid script and good acting. Isn't that really what movies are about, anyway?
Unfortunately, Rebekah McKendry's film, Glorious, cannot achieve even one of my aforementioned necessities for a good low-budget film. Glorious centers on Wes (Ryan Kwanten) who has found himself and all of his worldly possessions at a highway rest stop. It is clear from the beginning that Wes has suffered some sort of tragedy in his life and is potentially on his way to start over somewhere new. After Wes ends up getting drunk in the parking lot and burning most of his past life in a BBQ grill, he awakens with no pants and a raging hangover. As he tries to purge himself of the previous night's mistakes in a dirty bathroom stall, he hears the voice of a person in the next stall over. On the wall of Wes' stall, there is a painting of a strange looking supernatural or cosmic alien with a hole where its mouth should be. This figure is ominously looking over the toilet that Wes is painting with vomit. The voice is instantly recognizable as the prolific J. K. Simmons, and we come to learn through their conversations that he is an ancient cosmic being that has become trapped in this bathroom stall and needs Wes' help to escape.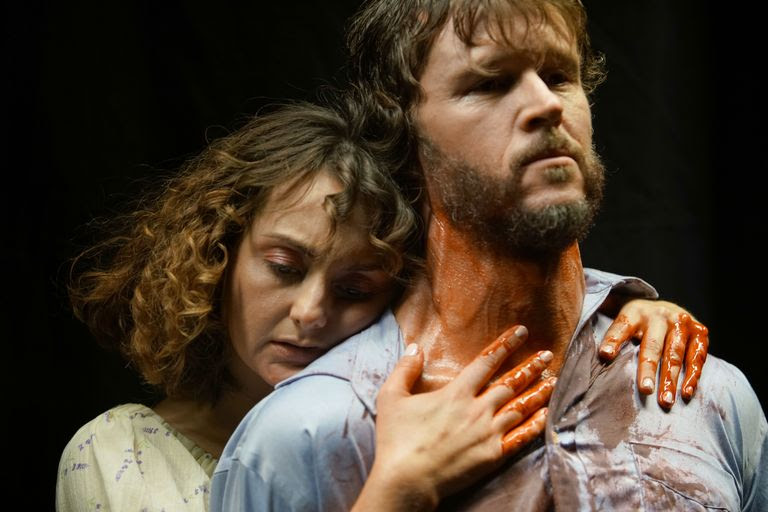 From this point on, the film only takes place in this run-down men's bathroom and plays out through dialogue between the alien and Wes. Here lies my biggest problem with Glorious. If there are only two characters in your film, those two characters better have some damn good chemistry. However, when one of those characters isn't physically there, and you have to tell your story through the emotions and actions of one on-screen character, that performance needs to be captured in the absolute best takes that the director can get. Unfortunately, Glorious feels as though most of the shots pull from the Ed Wood school of directing, where "good enough" will at least get the film in the can.
As the film progresses, we learn the alien has locked Wes in the bathroom and will free him if he aids in helping it gain enough strength to leave. Wes, after executing the most low-hanging fruit of a joke surrounding a glory hole, finally learns that the alien needs a piece of his liver in order to be free. Now I said that this was a two-person film, and that isn't entirely true, because another character enters the bathroom only to be quickly killed and turned into a shower of blood by the alien. This scene is the only real action or special effects sequence of the whole film, and while the CGI that is used to give mere glimpses of the alien is actually pretty solid, it feels cheapened by the over-the-top cheese of the character's death. I'm not one of these people that requires a ton of action in a film to enjoy it, and in fact, I'm quite the opposite as slow burns and psychological mind trips are my favorite films. Glorious just completely misses the mark on making you feel connected to Wes or even caring about him at all as a character. One could argue that the character the audience should love is actually the alien and, to a degree, I can definitely buy that, but I needed to feel at least something for Wes other than boredom.
Now, I'm ragging on the acting here, but I don't completely blame Ryan Kwanten on this one. Contrary to what most Hollywood blockbusters might say, I believe that the actor's performance completely relies on the director's guidance and vision. The actor can deliver the lines, but the director has to guide the actor in how to make that performance fit into the film. Sadly, I really didn't feel like that happened in Glorious. It honestly felt like J. K. Simmons came in and read his lines, which for a no-nonsense unseen bathroom stall alien was just fine, but it felt like Kwanten had no real direction on how to effectively act against a voice in a can (that will be the only bathroom joke, I promise).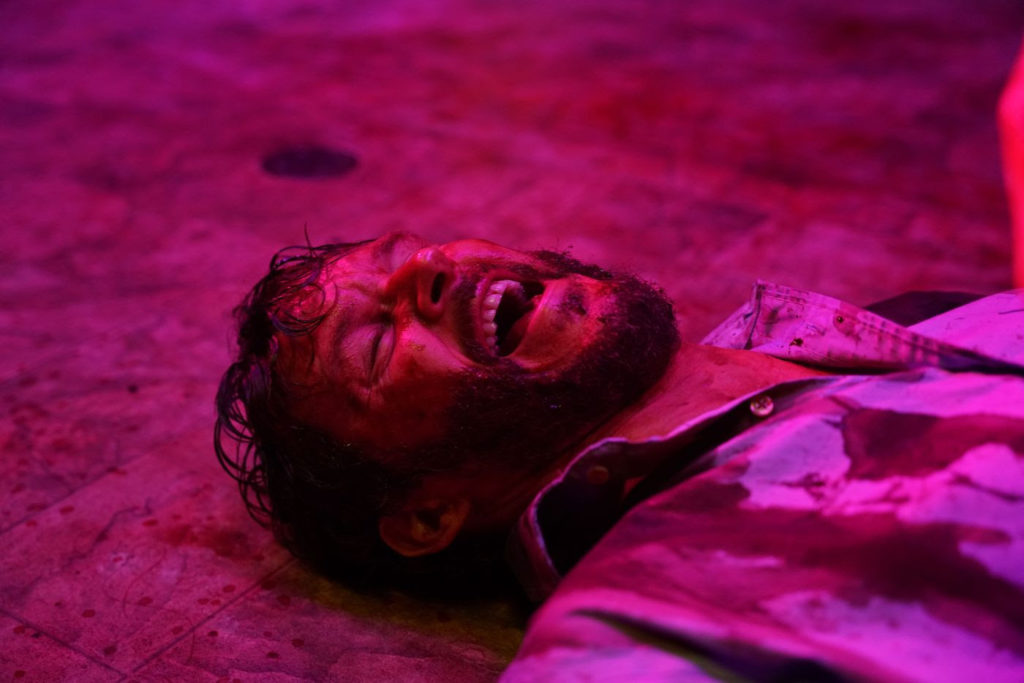 Outside of the uninspired performances in Glorious, I have to point out that the choice of the film's color palette feels like it heavily borrows from 2019's Color Out of Space. This might not be such a bad thing if Glorious' release wasn't following so closely behind Richard Stanley's titan of a Lovecraft film. The two films are definitely not in the same ballpark in terms of budget, but even if you took away the monsters and special effects of Color Out of Space, the film would still be effective from the actors' performances alone.
A part of me really wanted to like Glorious. I had seen McKendry's previous feature All the Creatures Were Stirring, and was honestly pretty underwhelmed, but it was her first feature and there is always room to improve. Actually getting a film made often feels like it takes an act of a cosmic being, ‌but in the end, that doesn't mean it has to be good. On a technical level, Glorious is competently shot and looks great, but that alone isn't enough to make it a win for me as I wanted more depth in the characters and a better performance to sell the mere hour and nineteen-minute runtime of the film. Glorious is definitely not a glory hole that I will want to visit again.
Glorious will stream on Shudder starting August 18th.